Getting to know the "TripleXTransMan" intimately
Hello and welcome to my personal website. I am a Transgender Man and professional adult-content-creator (yes, that's a fancy way of saying I do porn).
Looking for all my steamy pics and vids? You can start with these LINKS to all my XXX content. Thanks for the support!
In addition to modeling, I work extensively to further understanding of issues involving transgender advocacy, adult work, body positivity, and general sexual health education. On this website is a page with educational information about trans people including my personal FAQ.
I believe that through my work as a model I can make a mark upon the world while also supporting myself in a career I feel passionate about. Here you can read some of the many articles I have been profiled in, and listen to the podcasts I have been featured on.
I am a multi-award winning performer; I was the recipient of the 2020 and 2022 Transgender Erotica Awards Pornhub Performer of the Year, the 2021 GayVN's Favorite FTM Star, and the 2021 Raven's Eden Hottest Transman awards. I have collaborated with some of the biggest stars in the industry including Boomer Banks, Rocco Steele, Mr. Bolden, Will Angell, Ray Diesel, Lance Charger, Brian Bonds, Julian Torres, and dozens more; all my hardcore videos are included on my sites.
Scroll down this page for more about my work as a performer. And if you are curious about how to break into the adult industry yourself, check out this page for some tips.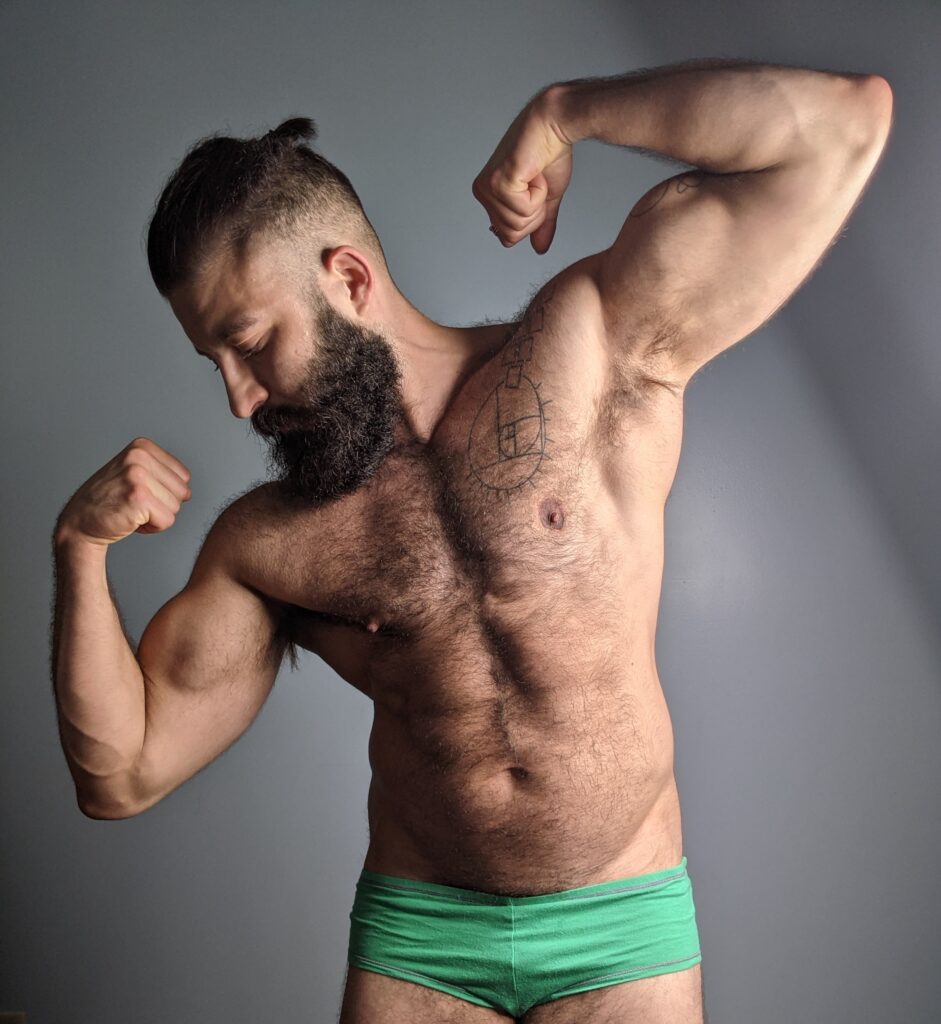 All About Trip
(It's NSFW from here onward)
"TransMan Star Explores Authentic Passion"

Trip Richards is a hairy bearded dude with tattoos down one muscular arm. He also has a wet pink pussy, or as he refers to it, a front hole. He's a 32-year old bisexual transman, and has been gaining a growing online following over the past few years.

Trip explains that he got started in adult work as a webcam performer. At first, he was unsure if anyone would want to watch him. He says with a laugh, "as a transmale performer, I certainly do not have the anatomy of a typical male pornstar. But I offer something uniquely erotic!" Along the way, Trip also became an educator on all things transgender. He explains that most of his viewers had never seen a transman before, or at least not a naked one. And they were naturally curious. Many of these viewers found themselves extremely aroused, and Trip soon had a loyal following.

"People often ask why I rarely shoot with studios. The answer is simple; I love being able to share my sex life directly with viewers. As an amateur performer, I am so fortunate to have access to platforms like onlyfans and justforfans where I can connect directly with my fans." Trip explains, "what makes my porn unique is that it's all from real, authentic, unscripted encounters. I have lots of sex, with beautiful people of varied sizes, shapes, gender identities, ages, and colors. I believe that sensuality – and visceral sex appeal – transcends traditional boundaries of what studios think will sell!"

Since launching his OnlyFans and JustForFans pages in 2017 and 2018, respectively, Trip has shared thousands of pictures and videos. A prolific uploader, Trip updates his pages at least once daily, so subscribers will always be greeted with new content to enjoy. He says, "I am naturally a very sexual person, and to be able to share my adventures is just amazing."

What can you expect on Trip's pages? You'll see him playing eagerly and passionately in a great variety of full-length videos. He has dozens (maybe hundreds!) of steamy, all-raw, sex scenes, all carefully filmed yet retaining the realistic amateur content we love. While he is particularly enthusiastic about group sex scenes, and has uploaded some wild orgies this year, he also enjoys passionate one-on-one encounters and intimate solo playtimes. You'll even see candid moments in the gym locker room or shower, raunchy car play, and other snapshots from his daily life.

Trip also says he has a broader mission that's just as important as having fun. "I believe that adult performers in general – and transgender performers in particular – continue to have a unique role as educators. Of course, pornography is about sexual gratification, but it can also reshape cultural norms and help us rethink our assumptions. Just as the early adult-video stars broke through taboos and gave viewers their first on-screen glimpses of real human sexuality, modern trans performers have the dual role of being erotic and educational. " Trip has built his following in part by being an educator and activist at the forefront of queer porn. He hopes to normalize conversations about sex work, issues of consent and sexual health, and the way that shame (or lack thereof) shapes how we interact with each other!

By being so open about his body and his sexuality, Trip hopes to show everyone that authentic passion is about so much more than just bodyparts!